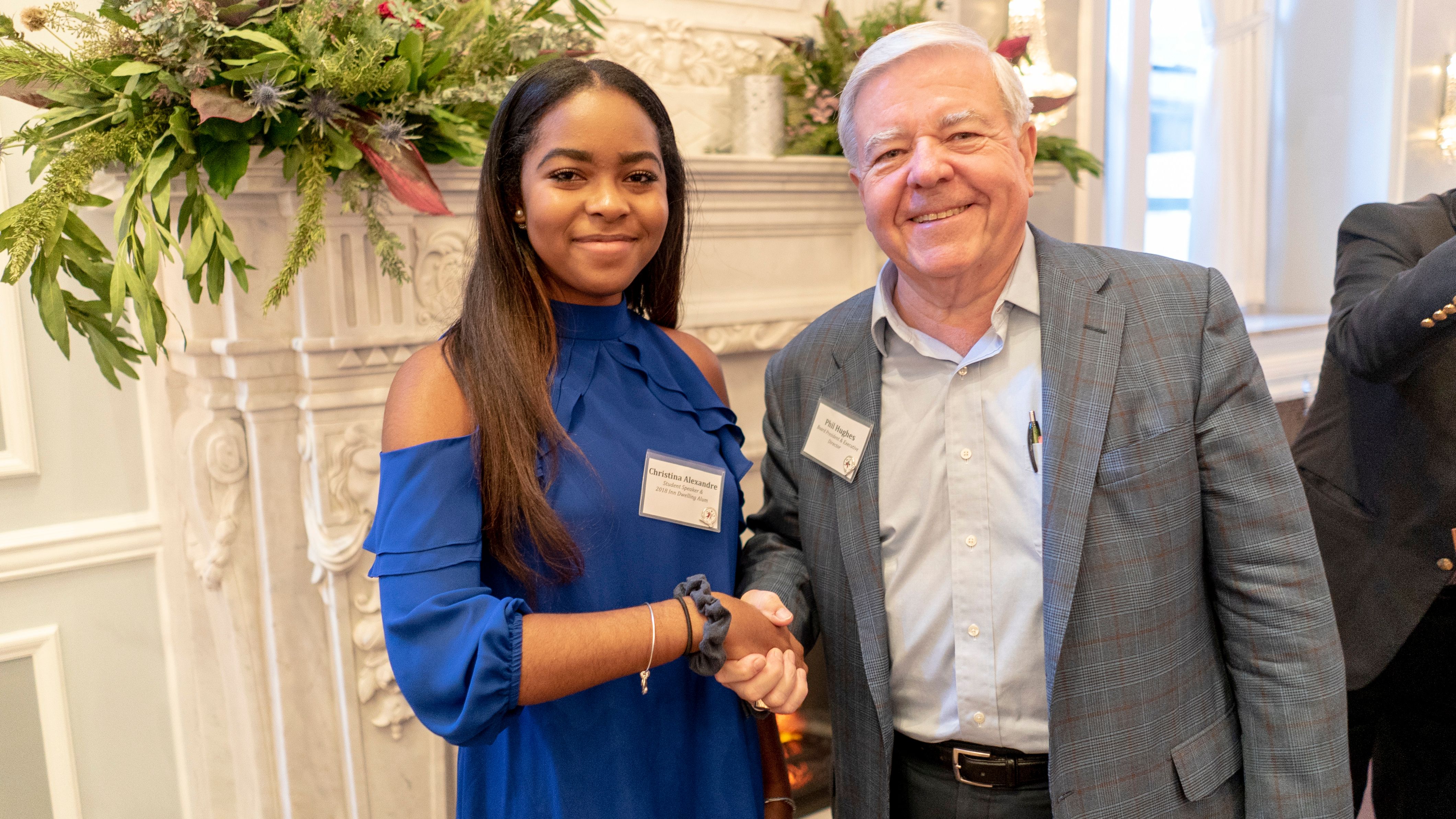 Check out the next installment in our "Inn Their Own Words" series! Read how one of our most recent graduates experienced the challenges of being a student of color and now sees the program's impact as an alum:
"I began Inn Dwelling in my sixth grade year. I joined after Charles Arroyave--the Sophia Program's On-Site Coordinator--told me he saw potential in me and encouraged me to strive for more through Inn Dwelling. I have always been the type of person to seize upon opportunities, so I accepted the offer--even though I knew little of what the program actually entailed. I imagined Inn Dwelling to be a place where I could make new friends while also getting help when needed for my tougher subjects. After meeting with Sister Rosemarie and attending Inn Dwelling for a few days, I realized the true rigor and discipline of the program. To be honest, I did not enjoy it too much--I was accustomed to controlling my own study habits and homework completion; I was not accustomed to the extra attention given me or the expectations required of me.
I continued on to the Sophia Program during my seventh and eighth grade years; at the time, Sophia was a newly launched Inn Dwelling program at Holy Cross School for gifted, at-risk, disadvantaged students. It was in its second year, but it ended up proving effective, challenging, and a much needed resource for students. Through Sophia, we were encouraged to do our best. It was here I was able to further my preparation for the High School Placement Test, a standardized test which would determine my admission to a selective, college preparatory high school with the ability to truly support my continued academic studies.
I was accepted into Merion Mercy Academy with an academic scholarship, thanks to the encouragement and help of Sister Rosemarie and the Sophia Program. Merion Mercy is a suburban girls' high school. Coming from my majority black, lower-income elementary school and transitioning to this majority white, upper-middle class high school proved to be an interesting and difficult transition for me. Shifting from an environment where everyone looked like me and where I knew everyone and had grown up with them to an environment where everyone seemed to be familiar with each other but me, seemed to be a lot more well off, and where I was the minority was a strange and complex feeling. Even though I was at the top of my class throughout grade school, nurtured and praised by my peers and teachers, and felt adequately prepared, I was overwhelmed by a sense of inferiority to my new classmates.
This created a sort of conflict within me--I was prepared just as much as my peers-- Sophia provided me the test prep I needed to get into this high school, and the curriculum of the core subjects I learned had me feeling confident in my intellectual capabilities. I was even able to participate in very rigorous pre-high school Saturday school and summer programs in my sixth, seventh, and eighth grade years because of Sister Rosemarie's encouragement and generous funding from Inn Dwelling. The Sophia Program provided me the support and opportunity to reach my full potential, but faced with a group of people I was unfamiliar with, I felt intimidated and inadequate.
Looking back now, I think that part of the reason for my feelings of inadequacy could have been the income disparity between myself and my classmates. This disparity made me uneasy, and it made me feel like we came from two different worlds. In addition, I was also facing challenges at home. My parents were always arguing, and there were constantly domestic disputes. There was never a quiet or calm moment in my household. My mother always had the best of intentions for me and my siblings though, and did the best she could to ensure we had everything we needed. I am also the oldest, and my parents did not speak English well enough to help me with my homework so I was primarily my own teacher at home, and it fell to me to teach my younger siblings as well. These moments caused me to have difficulty focusing. I constantly felt stressed. In some of my classes, I began to slack, causing my grades to fluctuate and become substandard to the quality I had in middle school. I started to doubt my ability to become a doctor, which I had always aspired to be. It seemed like everyone around me had their life together and figured out, so I felt even more out of place.
Despite my worries, as time progressed and with Inn Dwelling's support, I continued to work hard on my weaknesses, turning them into strengths. I gained more efficient study skills and became a more well rounded student. As a result, my confidence and faith in myself grew. I persevered, facing down many of my fears and coming out the other side. I moved forward with increased confidence, preparedness, and knowledge that allowed me to overcome any obstacles standing in my way.
During my time at Inn Dwelling, I had such a hard time coming to terms with how hard I felt Sister Rosemarie was on us. She was constantly hounding me whenever I received a poor test grade or disappointed in me when I didn't register for courses or attend programs I thought were too difficult or too much of a reach for me (in the end, she won the arguments and had the final say, as always!). I often asked myself why she even cared--she wasn't even my mother! I realize now that much of what she did was because she loves us and knew better. At the time, I felt resentful; it seemed she was being harder on me than she should have been. Her expectations for me seemed too high and unrealistic, and I felt that she could not understand my troubles. I have come to realize that this constant push and the demand for our best is what makes this program so amazing and effective. Sister Rosemarie was harder on us to instill in us the discipline needed to navigate a world where things are not skewed in our favor. She had to set the bar high so that we did not settle for mediocrity.
Let me tell you a story. I remember going on one of my many prospective college visits with Sister Rosemarie. This one was Wellesley. We were in the gift shop, and I wanted to buy a souvenir--but nearly everything in the shop was expensive and out of my price range. I eventually settled on a small trinket that I could afford. Sister asked me why I wasn't buying one of the branded college sweatshirts. I explained to her the high prices were making that choice impossible. After a bit of back and forth and despite my best protests, she insisted on purchasing the sweatshirt for me. On the car ride back home, Sister explained her reasoning for buying me this particular item. You see, she wanted me to be able to proudly wear the Wellesley sweatshirt during Merion's weekly College Sweatshirt Days; up until then, I did not have one to wear and had not participated in this tradition. By buying that sweatshirt, Sister made it possible for me to show that I could be in the same league as my peers with more resources; I could gain exposure and admittance to a prestigious college, just like them.
That gesture is one small instance. But it is one of many where Sister and Inn Dwelling have gone above and beyond to create inclusion, equality, and equity. Inn Dwelling has instilled within me the motto: "if they can do it, you can do it too." They have made me realize I was deserving of the same education and showed me just what I could do with the knowledge I have.
Without Inn Dwelling, I would not have had the necessary after-school homework help and standardized test prep to get into such a wonderful high school that afforded me so much access and opportunity. I would not have received the funding to do things that were beneficial and critical to optimizing my college application process. I would not have been encouraged to take challenging courses. I would not have applied to QuestBridge, which awarded me a full scholarship to be part of Amherst College's Class of 2022. I would not have utilized my gifts to the best of my abilities. I would not have reached or realized my full potential, nor would I be pursuing the ambitious dreams that I have today.
Inn Dwelling has truly changed my life. The program helped me so much--in not being afraid to ask for help, raising my confidence in my abilities, and encouraging my independence. Inn Dwelling taught me to be ambitious and resilient, to try new things, to be determined and creative, and to demand better. It taught me not to accept mediocrity, because mediocrity is only a disservice to myself and those who have helped along the way. With Inn Dwelling, I had a resource to help me learn and grow as a person. I had access to information and tools many first-generation and low-income students do not. I had a voice. For these and so many other reasons, I will be forever grateful to Inn Dwelling.
As an Inn Dwelling alum and a current Amherst College freshman, I have big dreams. I know my future includes medical school following Amherst. I know I will become a doctor to help individuals in need, those like my grandmother who died as a result of poor and inadequate healthcare after the 2010 Haitian earthquake. I know I will give to my community and to Inn Dwelling so that students like me have an advocate. I know I will be part of breaking the cycle of poverty. I want to be a force in this world, to be a voice for the voiceless and affect change. Thanks to Inn Dwelling, I know I can and I know I will."
This speech was given by Christina A. at our 2018 Annual Celebration, a gala celebrating our work and fundraising on behalf of our mission. Christina is a 2018 graduate of our high school program; she currently attends Amherst College in Massachusetts as an undergraduate with a full ride through the QuestBridge Match program.