Please find Inn Dwelling's Administrative team, Board of Directors, and Programming staff below.
This area of our website is under construction, and we appreciate your patience as we continue to build it out. 
Carolyn Scott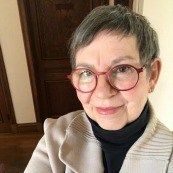 In 2002, Carolyn retired from Springfield Township High School in Montgomery County after 34 years teaching English. With more free time on her hands, she started dabbling in volunteer tutoring for adults at the Center for Literacy in Philadelphia and at an elementary school in her neighborhood--but she missed working with teens.
 
Then, in 2007 Brother Al spoke at Carolyn's church, the Unitarian Society of Germantown. He mentioned Inn Dwelling's afterschool program for high school students, piquing Carolyn's interest and prompting a later call to inquire if English tutors were needed. Next came a meet and greet with Sister Rosemarie and thus began a long association with Inn Dwelling.
 
Carolyn says she is very happy to work with Inn Dwelling students, and she counts them among the best and brightest (as well as the sweetest and funniest) youth she has known. She's seen firsthand how our programs, with her support, can completely change someone's life: "A few years ago, I nominated Inn Dwelling for my church's Share the Plate program. One of my Inn Dwelling students, Diana Striplet, spoke at the awards ceremony. I had worked with Diana for several years: at Merion Mercy's Saturday program, during the afterschool program at Inn Dwelling headquarters, and then one summer for college test prep. Diana announced during her speech that she had been chosen as a QuestBridge Match and Gates Millennium Scholar at Haverford College on a full ride. The entire congregation erupted into applause and cheers, and Diana couldn't stop smiling from ear to ear. I am thrilled to have been part of Diana's journey and that of so many other Inn Dwelling students."